As globalization evolves, Diversity and Inclusion have become important drivers for rapid growth to enterprises. In this context, number of women leaders has consecutively grown in China in recent years. She era, She impact, Women group has uplifted an impact in the workplace which should not be neglected. It is a gorgeous recast from "Inability being a virtue for women" to gradual exposure of female talent internationally. Women in China have achieved spiritual freedom and economic independence in the past century. In China, the formidable woman warrior image of Mulan has imprinted on people's hearts and inspired women generation after generation. In Budweiser, we have Mulan Club, a team of strong female leaders. They are beautiful, smart, intellectual, extraordinarily persevered, determined for excellence and courageous in facing challenges. On such a lovely day of June, we are honored to have women leaders with outstanding achievements in various fields gathering together with Budweiser 'MULANs' in this heroic city of Wuhan, to participate in and witness the opening of Budweiser APAC 2021 Women Leadership Forum. We are pleased to have all members of Mulan Club to join us and share their wisdom and experience on "Women who brew", and, to empower women to shine on a higher stage.
We are pleased for the presence of Dr. Liu Xiaozhi, Independent Board Member of AB InBev Global; Jill Tang and Charlene Liu, Co-founders of Ladies Who Tech; Suesal Arieli, CEO & Founder of Arieli & Company, Budweiser APAC Mancom, and, colleagues from different BUs/Regions with us in this grand event.
Firstly, Linda Qian, Chief People Officer of Budweiser APAC and the initiator of 'the Women Leadership Forum, gave an opening speech on the evolution of value and status of Chinese Women in recent centuries and presented Budweiser APAC and BU China D&I Committee strategy and plan, She re-emphasized the company's commitment in creating and enhancing a diverse and inclusive workplace, providing more opportunities, continuously improving competitiveness, and providing a more comfortable and personalized work experience to our women employees. Wang Meng, Senior Procurement Director of Budweiser APAC, then presented the findings and action plan of the Budweiser China D&I survey launched in April covering voices from thousands of female employees in China. She explained how the team behind transformed the concept of D&I to a specific plan and action, and how it would benefit the development of our female employees. Catherine Yin, Senior Marketing Director of Budweiser APAC, wrapped up the first session of the Forum by sharing with the group the most edge-cutting female consumption trends and business insights, "Women nowadays are not only shining in the workplace, but also the leader in driving consumption. Chinese women are economically independent, spiritually free, and can both earn money and spend money. With the huge purchasing power of female consumers, it has directly led to the expansion of social e-commerce, live-streaming and group on, which has influenced the direction of the entire consumer market and the change of the consumption pattern."

After the first session, we kicked off the second session of the Forum. The first 2 speakers were Jill and Charlene, co-founders of Ladies Who Tech. The organization is dedicated to giving a voice to more women in STEM (science, technology, engineering and math) industry. Ladies Who Tech annual conference brings together thought leaders, entrepreneurs and experts from various industries to share their life journeys and discuss the role of women and gender diversity in STEM industries. The annual conference always attracts thousands of participants every year. The second speaker was Suesal Arieli, CEO and Founder of Arieli Consulting. She presented on women's influence in the workplace. Suesal is an external consultant of AB InBev global talent development program, a global provider of executive coaching programs for hundreds of Budweiser top talents worldwide. She is also the career development coach for a couple of APAC senior leaders. Last but not least, we had Dr. Liu Xiaozhi, Global Independent Director of AB InBev, shared with us on "Women Leadership in the Digital Era". From a typical engineering student to a heroic woman in the business world, she has proven how far a woman can reach in the academic, business and social fields. She is a role model for women. As a successful women leader, she conducted a heart-to-heart communication with Budweiser Women about her experience in China and abroad and provided all kinds of constructive suggestions on how to become a successful woman, bringing more opportunities for empowering women leadership and breakthroughs. She encouraged all Budweiser Women to courageously face their challenges and break through the high tides.
In Budweiser, we are privileged to work with many outstanding women leaders who are located in different cities, in different positions, under different age groups and with different educational backgrounds, but bearing the same substance with great resilience, striving for excellence, passion for challenges to harvest for growth and honor. To recognize those who have made special contributions to Budweiser APAC, we launched a nomination campaign for 2021 Budweiser APAC Outstanding Women Leaders for 5 prizes. After rounds of voting by Mulan Club, 17 winners out of 2,000 nominees were selected. They are: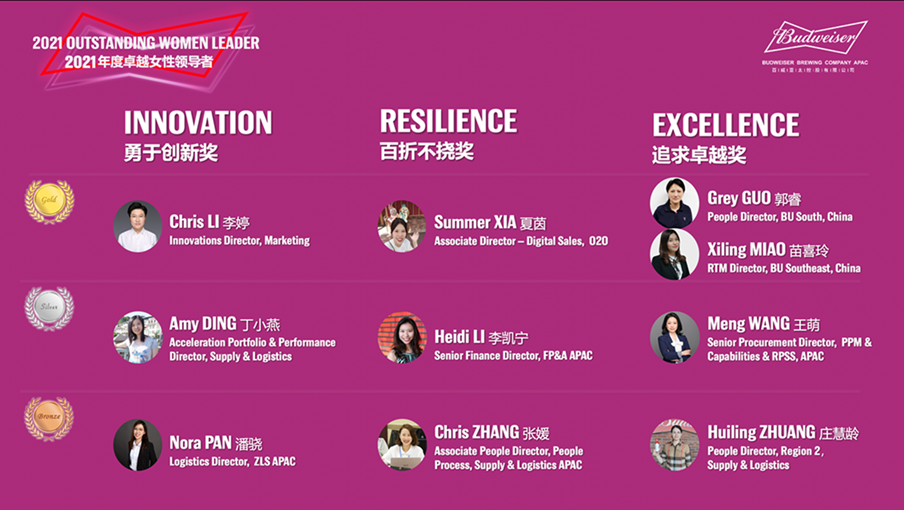 The forum was concluded upon a closing speech by Jan Craps, Budweiser APAC Chief Executive Officer and Co-Chairman, who reiterated China's dreams and priorities for the next 10 years. The three core strategies of "premiumization", "digitalization" and "expansion" were elaborated, which ignited the confidence of the participants in the development of Budweiser China in the next ten years. In doing so, Jan places new demands on Budweiser's female leaders to play an active role in transforming the business, driving changes and transforming challenges into opportunities; lead by example and be a role model for Budweiser women; actively share own professional experience, aiming to help more Budweiser employees grow up in the company. Finally, he expressed his hope that the successful experience of Budweiser Mulan and ''Women Who Brew'' will become the best practice in the industry.
In the past, Mulan dauntlessly blew into the battlefield to safegard the wellbeing of her respectful father.
Thank you for all your support and participation, see you in 2022!
Thank you for all your support and participation, see you in 2022!