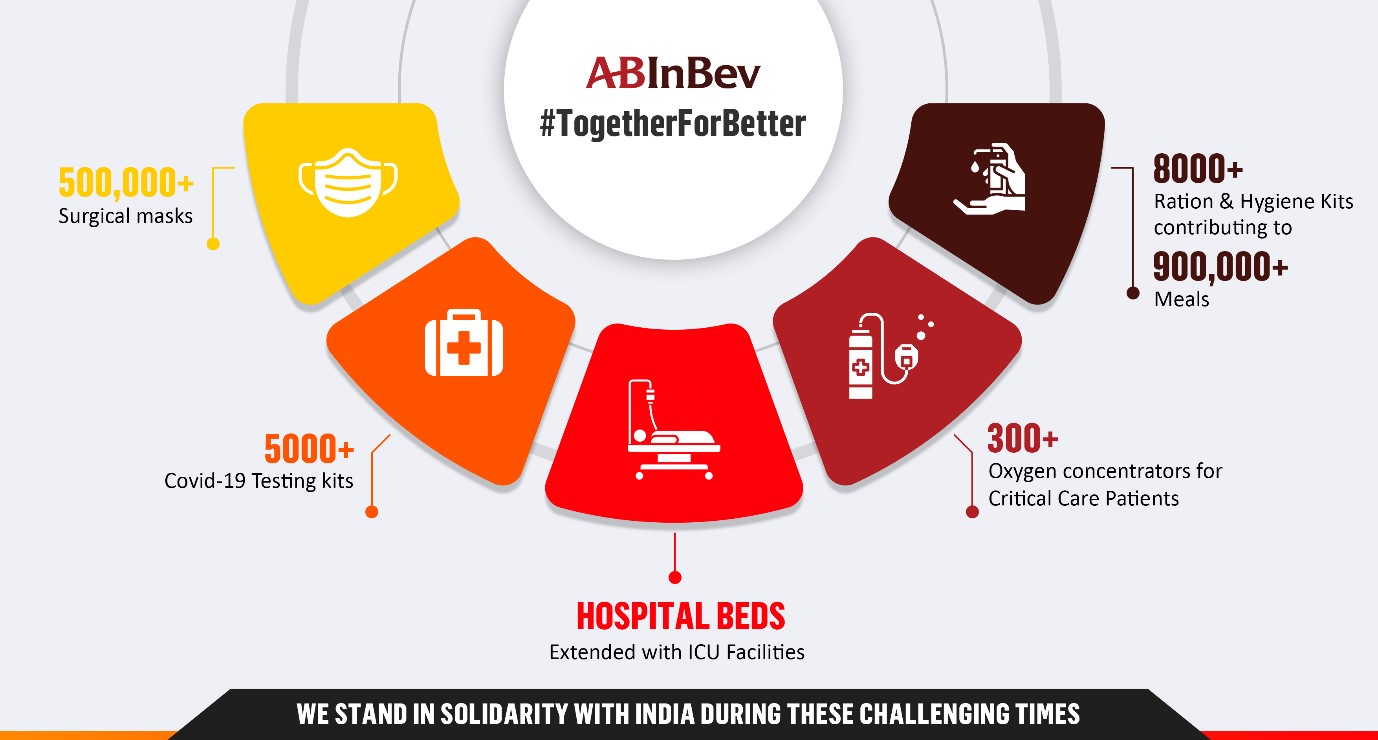 India, 18th May 2021: Bolstering its support to communities, Anheuser Busch InBev extends support to improve health infrastructure and provide essential aid across states in the country as they battle Covid-19. AB InBev, the world's leading brewer is equipping state governments with more than 300 oxygen concentrators, 8000+ essential aid kits to Covid-19 affected families, over 5,00,000 masks, 5000+ test kits in 50 villages across the country and a Covid hospital bed set up in Bengaluru.
"As India grapples with the second wave of Covid-19, we stand in solidarity with the country and pledge our full support to communities and the government. The health and safety of our communities and colleagues continue to be our top priority. Over the last year, we have focused our Covid-19 relief efforts in areas where we have the greatest impact-supporting our people, providing essential aid to communities, collaborating with public health experts, governments, partners and, connecting with our consumers in meaningful ways. We will continue to explore and undertake initiatives to enhance health and medical infrastructure, address the immediate needs of affected communities, and facilitate rehabilitation," said Kartikeya Sharma, President – India & South East Asia, AB InBev.
Keeping with the overall commitment to equip states with adequate healthcare infrastructure, the company is adding to the existing Covid-19 hospital bed capacity at a city hospital in Bengaluru, Karnataka. This facility houses Isolation Wards for Covid-19 patients, ICU facilities for critical care, an in-built oxygen pipeline, OPD and Screening Wards for testing.
"The health and safety of our communities and employees continue to be our top priority. We are collaborating with medical institutions, corporates, NGOs and the government to extend our support during these unprecedented times. Our purpose of bringing people together for a better world is more relevant than ever. We will continue to undertake initiatives to address the immediate needs of affected communities and our people," said Serge De Vos, Managing Director – Global Capability Center, AB InBev.
In the first phase of this initiative in 2020, AB InBev impacted more than 15 lakh frontline workers across Delhi, Maharashtra, Uttar Pradesh, and Haryana by providing more than 250,000 bottles of hand sanitizers, 25,000 FFP2 masks and 3,62,100 meals distributed to migrant workers in Bengaluru, Karnataka.
About Anheuser-Busch InBev:
Anheuser-Busch InBev is a publicly traded company (Euronext: ABI) based in Leuven, Belgium, with secondary listings on the Mexico (MEXBOL: ANB) and South Africa (JSE: ANH) stock exchanges and with American Depositary Receipts on the New York Stock Exchange (NYSE: BUD). Our Dream is to bring people together for a better world. Beer, the original social network, has been bringing people together for thousands of years. We are committed to building great brands that stand the test of time and to brewing the best beers using the finest natural ingredients. Our diverse portfolio of well over 500 beer brands includes global brands Budweiser®, Corona® and Stella Artois®; multi-country brands Beck's®, Hoegaarden®, Leffe® and Michelob ULTRA®; and local champions such as Aguila®, Antarctica®, Bud Light®, Brahma®, Cass®, Castle®, Castle Lite®, Cristal®, Harbin®, Jupiler®, Modelo Especial®, Quilmes®, Victoria®, Sedrin®, and Skol®. Our brewing heritage dates back more than 600 years, spanning continents and generations. From our European roots at the Den Hoorn brewery in Leuven, Belgium. To the pioneering spirit of the Anheuser & Co brewery in St. Louis, US. To the creation of the Castle Brewery in South Africa during the Johannesburg gold rush. To Bohemia, the first brewery in Brazil. Geographically diversified with a balanced exposure to developed and developing markets, we leverage the collective strengths of approximately 164 000 colleagues based in nearly 50 countries worldwide. For 2020, AB InBev's reported revenue was 46.9 billion USD (excluding JVs and associates). For further information, please see http://www.ab-inbev.com/.
For more information:
Bratin Roy | bratin.roy@in.ab-inbev.com |+91 9833868621
Arpita Rao | Arpita.rao@mslgroup.com | + 91 9035192707