On May 13,Budweiser APAC and Jiangsu Nongken (JSNK) Group, the eastern province's forerunner of smart agriculture, successfully hosted the Harvest Ceremony on the theme of "Harvest New Chapter, Brew With Heart" at Linhai Farm in Sheyang County, Jiangsu. Executives and guests including Jan Clysner, VP Procurement & Sustainability, APAC; Craig Katerberg, Chief Legal and Corporate Affairs Officer APAC; Jenny Hua, Marketing Director, Sedrin & Local Brand; Wu Gangyu, Governor of Sheyang County People's Government; Ling Xiaodong, Vice Governor, Sheyang County People's Government; Hu Zhaohui, Deputy Party Secretary and GM of JSNK Group; Liu Yaowu, Vice General Manager of JSNK Group; Chen Peihong, Vice General Manager of Jiangsu Provincial Agricultural Reclamation and Development Corporation; Xu Jin, China Director of Corporate Affairs of The Nature Conservancy; Li Ying, China Director of Conservation & Agriculture of The Nature Conservancy; Shao Xuejun, General Manager of Shandong Century Sunshine Paper Group Co., Ltd. and other guests from different parties gathered together at the Linhai Farm to co-witness a highlight moment of local malting barley's high-quality development. Yuan Yue, Secretary General of Beer Branch of the China Alcoholic Drinks Association also sent the letter of congratulation on the malting barley harvest.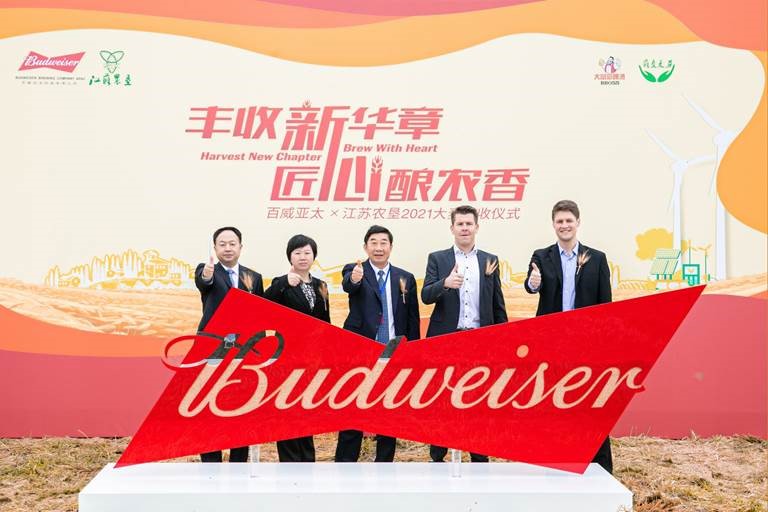 Celebrating the first malting barley harvest under the renewed partnership between Budweiser APAC and JSNK Group
Since signing the strategic agreement in 2016, Budweiser APAC and JSNK aimed at creating a benchmark for China's malting barley industrialization. Both sides embraced a tri-party partnership with local growers last year for the first time, which is now bearing its first fruits to drive new development of locally-grown malting barley. Jan Clysner, VP Procurement & Sustainability, APAC, noted at the harvest ceremony: "As one of the few brewers in the market that committed to breeding better-quality malting barley, Budweiser APAC has been starting from the source to improve the quality of local malting barley. The high quality of our harvested malting barley not only showcases our determination to seek a solid foothold in the Chinese market, but also turns local barley growers into practical beneficiaries, as our aspiration to share the fruits of development never changes." It is reported that this harvested barley variety has high quality, and this malt variety satisfies the national standards for 'top-grade malt'."
Jan Clysner giving speech on the ceremony
Yuan Yue, Secretary General of Beer Branch of the China Alcoholic Drinks Association also fully affirmed that: "As the world's largest beer market, our country relies heavily on imports for its raw material supply. It is imperative to change the shortcomings of our country's beer industry that is too dependent on raw materials. The cooperation between Budweiser APAC and JSNK is a win-win cooperation. It not only starts from the source of the beer industry, but also purchases and increases the proportion of China's malting barley used, and actively supports the development of China's malting barley. At the same time, The cooperation echo back to the rural land transfer policy, revitalizes rural land resources, and effectively increases farmers' income".
Liu Yaowu, Vice General Manager of JSNK Group commented: "Thanks to our partnership over the years, we've witnessed Budweiser APAC's enormous contribution to local economic growth. And now, we're celebrating the first fruits of our industry-pioneering strategic partnership struck last year. We expect to harvest 30,000 tons of barley, covering about 3,000 hectares of farmland and benefiting 5,000 local growers.
Guests from different parties sharing opinions about sustainability on agriculture
Budweiser APAC also actively implements sustainability goals in its cooperation with JSNK Group. So far, 15% of the electricity used by JSNK Group in barley processing will come from photovoltaic power generators. Meanwhile, Sunshine Paper will purchase harvested barley straws from JSNK Group to produce circular packaging for Budweiser APAC products. Both have helped practically connect the beer industry's upstream and downstream, driving a shift towards green, eco-friendly transformation. Among the guests, a representative from The Nature Conservancy, one of the largest non-profit environmental protection organizations in the world, put forward constructive suggestions on how Budweiser APAC and JSNK can build on existing progress to further contribute to the protection of environment, soil and water resources. In the future, TNC will also work with JSNK Group to further explore barley- and malt-related sustainable applications and highlights.
The high-quality local barley harvested today will be used to brew Budweiser APAC's local brand BBOSS Beer – with an expected annual production volume of 230,000 tons, the brand will be mostly offered in Jiangsu and surrounding markets. From breeding & planting and malting barley processing, to procurement and brewing, and then to terminal sales, Budweiser APAC has been accelerating the localization process for BBOSS Beer's whole industry chain, using high-quality local malting barley to deliver locally-brewed products, drive high-quality local economic development, and entertain local consumers while boosting local pride.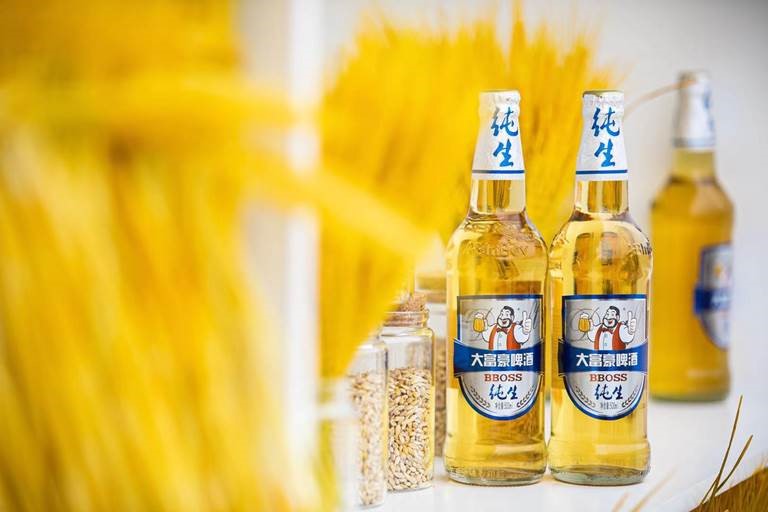 Local brand BBOSS Beer brewed from high-quality local malting barley generating local pride
Wu Gangyu, Governor of Sheyang County People's Government confidently said: "Shenyang County is rich in resources. The partnership between Budweiser APAC and the local community is not only making full use of our rich resources, but also contributing to the revitalization of local areas and the income growth of local farmers. I believe today's barley harvest is just a beginning, and we look forward to the birth of even higher-quality local barley to steadily supply the brewing of locally-brewed beer brands."
In the future, we will increase investment in research and development of China's high-quality malting barley, deepen the integration and development of the entire beer industry chain, and practice the road of sustainability. We will cultivate together to create a new chapter for the development of China's malting barley industry.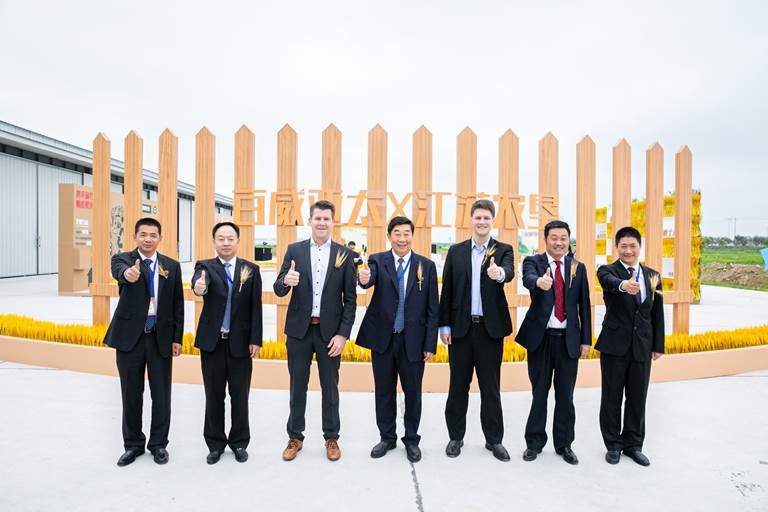 Guests thumbing up for brighter future of domestic malting barley
Here, we are not only celebrating Budweiser APAC's commitment to promoting high-quality development of the domestic barley industry, but also our dedication to sustainability as well as community engagement to empower our local farmers. Let's bring people together for a better world!
Smart Power Storage System of BUD APAC Foshan Brewery