On April 14, the Budweiser China launched a series of Environmental, Social and Governance (ESG) initiatives focused on advancing Green Logistics and power storage system. The Electric Vehicle Heavy Truck & Power Storage System Launch Ceremony was successfully held in Foshan brewery, where Budweiser China announced a series of new initiatives to advance Green Logistics and Sustainability initiatives across the country, including the roll-out of 30 Electric Vehicle (EV) heavy trucks across its value chain and the delivery of Power storage system in Foshan brewery. Together, these will jointly create a closed loop model of renewable electricity, which marks another step in our sustainability journey toward our 2025 Sustainability Goals.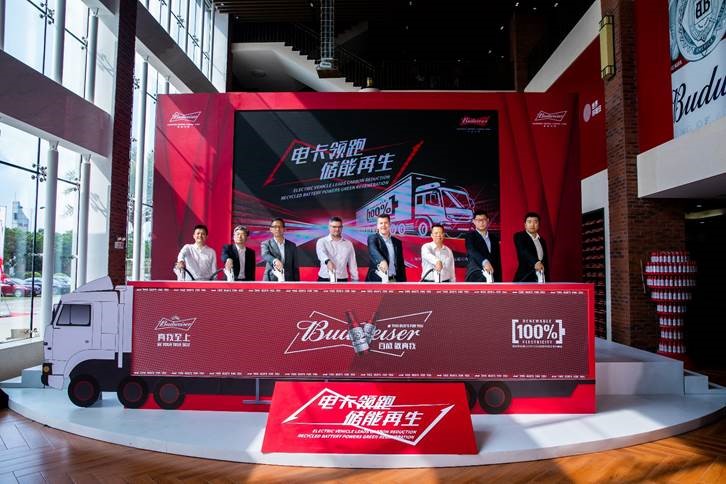 BUD APAC EV Heavy Truck & Power Storage System Launch Ceremony
Jan Clysner, VP Procurement & Sustainability, BUD APAC, Rodrigo Rodrigues, VP Logistics, Bud APAC, together with government officials of Foshan Sanshui District and Xi'nan Subdistrict office, and experts from World Resources Institute (WRI), China Federation of Logistics and Purchasing, Foshan Logistics Association, and Rocky Mountain Institute (RMI) , as well as business representatives from BYD, YUSHUO, and other logistics partners, attended the event, and jointly witnessed another key milestone on Budweiser China's journey of green logistics and renewable energy.
Opening Speech by Jan Clysner, VP Procurement & Sustainability, BUD APAC
Jan Clysner expressed his great confidence in the new initiatives: " We take enormous pride in taking the lead to deploy EV heavy trucks and smart Power Storage System in China, which will jointly create a closed loop solution to recycle retired EV battery for storing green power. We have the first brewery in the domestic beer industry to explore this solution, which provides an innovative example of the implementation of renewable electricity and carbon emission reduction projects. We believe that innovation and collaboration play critical roles in achieving our 2025 Sustainability Goals. In the future, we will drive more in-depth cooperation with our business partners to achieve our climate action commitments."
Opening Speech by Rodrigo Rodrigues, VP Logistics, BUD APAC
Rodrigo Rodrigues commented: "Green logistics is an important part of Budweiser APAC sustainability journey. We proactively embrace innovation to explore new approaches to achieve green logistics, lead new technologies to drive carbon reduction, and push the development of clean energy sources. At the same time, we own heart-felt gratitude to our partners, because it is their shared dedication that has made possible the pioneering technology of EV heavy truck."
BUD APAC & BYD Strategic Agreement Signing Ceremony
Starting from 2018, Budweiser started to pilot EV heavy trucks with BYD. After technology upgrade in the past 3 years, the loading capacity was increased from 23 tons to 29 tons, which promotes further development of green emission reduction in the entire industry. On April 13th , BUD APAC officially signed a new strategic agreement with BYD at BYD headquarter in Shenzhen, to strengthen cooperation on new energy vehicles. This year, Budweiser China, joining hands with its logistics partners, will deploy 30 EV heavy trucks Q3 in 8 breweries, and 4 of which launched first in Foshan brewery. The annual reduction of CO2 emissions is expected to be reduced by 1,690 tons.
EV Heavy Trucks Help BUD APAC Leading Green Logistics
Another highlight of this ceremony is the delivery of power storage system in Foshan brewery, which is the first grid-connected distributed power storage system. It uses retired batteries of electric vehicles as raw materials for energy storage, and can store 7.2 million kwh of renewable electricity generated by solar panels installed on the roof of Foshan Brewery. Nearly 4000 pcs batteries of vehicles, total 120 tons, were screened and reused. The power storage system could not only store solar energy to power beer production, but also charge the batteries of heavy electric trucks. After, the retired batteries of EV trucks will be screened and re-used into new energy storage devices, then, a closed loop model of renewable electricity will be created. Their lifecycles have been extended by at least five years. By the end of 2021, BUD APAC will complete this model in Foshan, Wenzhou and Suqian, and keep scaling up.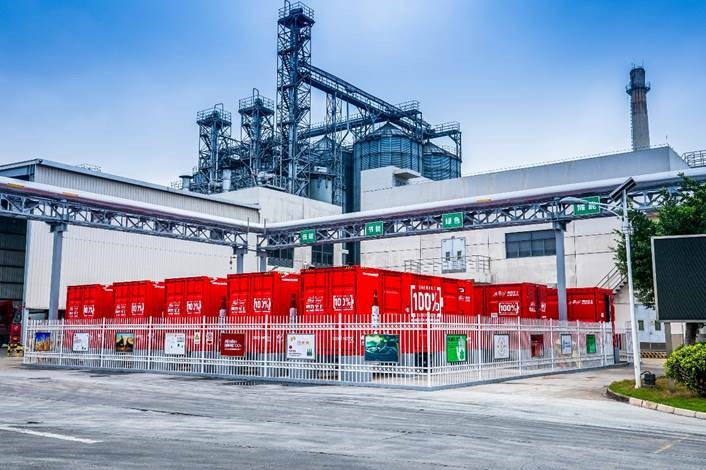 Smart Power Storage System of BUD APAC Foshan Brewery
Jiang Hao, EVP of Green Logistics Branch, China Federation of Logistics & Purchasing, commented: "The important initiatives and successful experience that Budweiser has, will set a positive example for other sectors and companies. The closed-loop model that they are building has a broad application prospect, which can jointly promote the development of renewable power and low-carbon conversion of the industry."
Sketch Map: closed loop of renewable electricity recycling
At the ceremony, Budweiser VPs conducted a panel discussion with representatives of Rocky Mountain Institute (RMI), World Resources Institute (WRI) and IKEA. They talked about the trend of Sustainability and Circular Economy and shared their experience from the practices of renewable electricity and green logistics.
Panel Discussion
As a world-leading beer company, Budweiser takes sustainability as its own business. In the future, Budweiser will spare no effort on integrating sustainability into the entire value chain and cooperating with more social forces to explore low-carbon development models, honoring its dream to bring people together for a better world.