January 30, 2020, Shanghai, China – As the whole country is going through tough time to combat and contain the 2019 nCoV outbreak, Budweiser China has decided to donate funds and resources worth RMB 10 million RMB to Wuhan's Hanyang District Charity Federation, to support the fight against outbreak of 2019 – nCoV in Wuhan.
Our combined donations to Wuhan City includes a cash contribution of RMB 5 million, emergency medical supplies worth RMB 4 million, and drinking water worth RMB 1 million. Among these, the first batch of 460 cases of emergency drinking water, totaling 11,040 cans, will first be shipped to the frontline where the battle against the 2019 nCoV takes place. Budweiser's Emergency Drinking Water Program, one of AB InBev's global public-service initiatives, serves a purpose beyond brewing through sending up-to-standard drinking water to areas in dire need in the shortest time possible. Over the past three decades, ABI has delivered more than 79 million cans of drinking water to hands in need around the world. Budweiser China's cash donation will, under the coordination and guidance of the Hanyang District Pneumonia Control and Treatment Headquarters, be appropriated to help with in-outbreak provision of anti-epidemic materials, volunteer insurances, protective gears and living allowances as well as being used to support post-outbreak public affairs such as improvement of community public health facilities and public health education.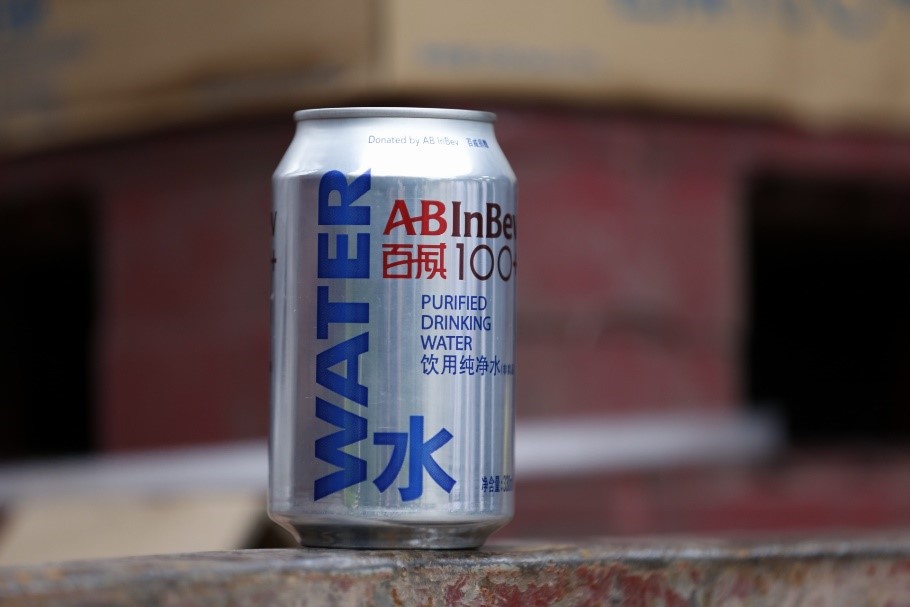 (Bud China Emergency Drinking Water soon to be shipped to virus-battle frontline)
In addition to supporting frontline epidemic control and treatment efforts, we have also been highly concerned about the safety of its employees and business partners, taking active steps to conduct virus-related prevention and education. We have taken concrete measures, such as give-away of facial masks, regular sanitizations, suspension of business travels, and postponement of office/facility re-opening, to safeguard our employees. In consolation to colleagues in Wuhan and Hubei, Jan Craps, CEO and President of Budweiser APAC, has sent a dedicated letter to express the executive team's heart-felt gratitude and respect for their understanding, tenacity, cooperation and dedication.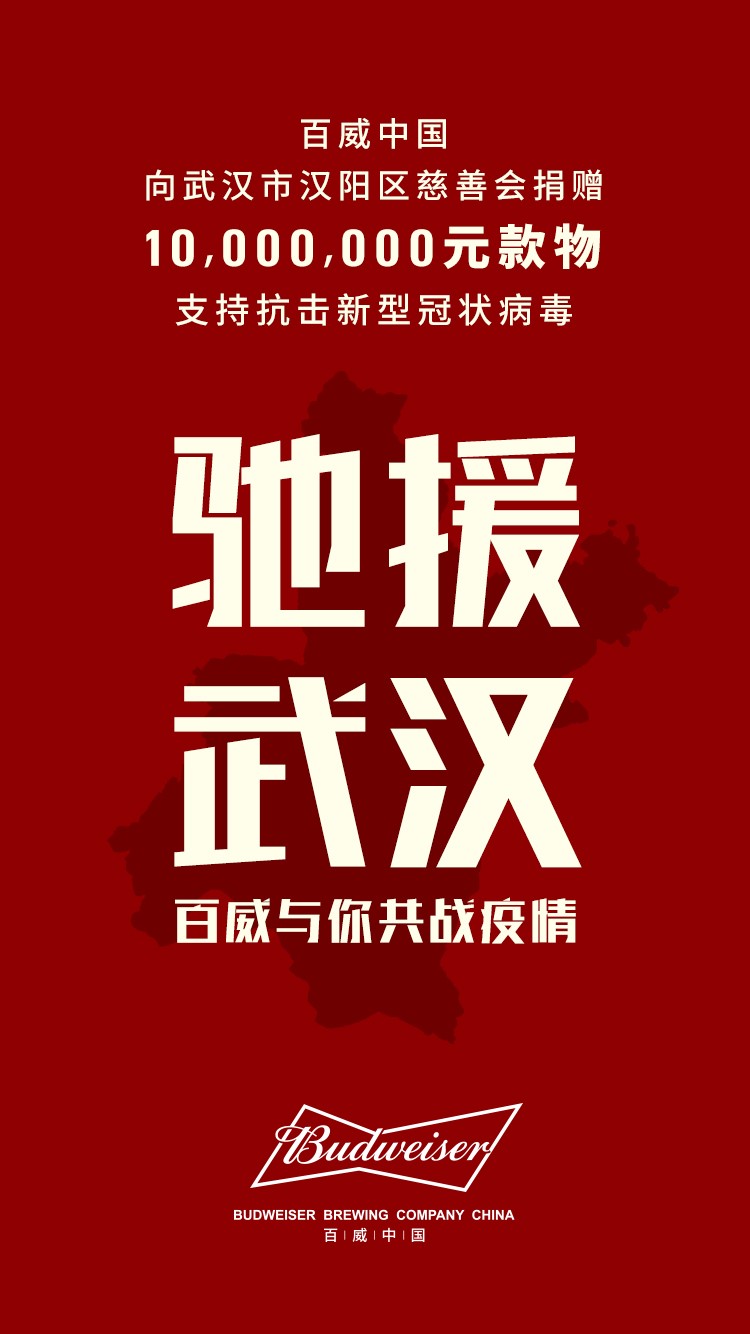 Budweiser's "In Aid of Wuhan"
In aid of Wuhan, Budweiser stands with everyone across China to fight virus! As a brewer deeply committed to the China market for years, we always care about the country and the people. We believe that under the Chinese government's unified decision-making and deployment, as long as we are all closely united, we will be able to overcome the difficulties and win this battle of epidemic control and treatment!
Stay strong, Wuhan! Stay strong, Hubei! And stay strong, China!