Year is coming, with good news. On December 13, 2019, Budweiser APAC won the recognitions of "influential enterprise of 2019" and "green partner" from Southern Weekly. Mr. Wang Renrong, Executive Director, General Counsel and Joint Company Secretary of Budweiser APAC, attended the ceremony and interpreted Budweiser APAC' sustainability goal and strategies with detailed case-sharing, by exploring the business logic behind it from a rational perspective, so as to provide leading-edge guidance in this field.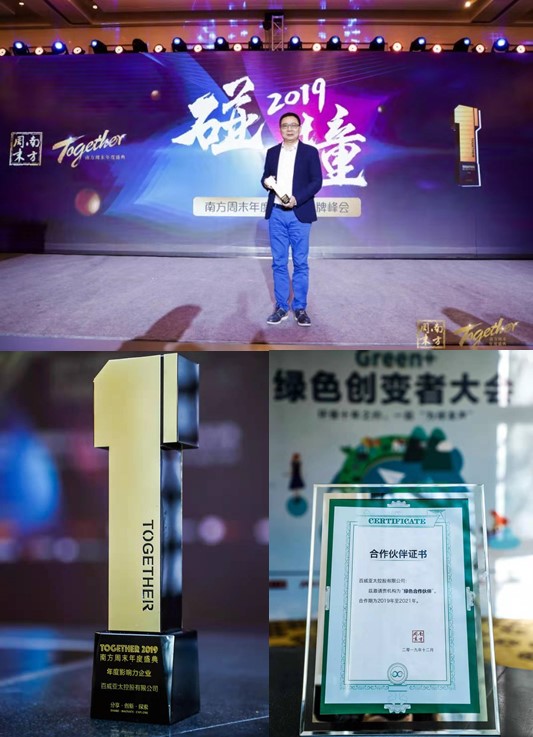 The two recognitions were presented by the well-recognized and trusted media Southern Weekly. After 35 years of development, Southern Weekly has become one of the influential media in China. And its annual recognitions are also authoritative in China. Southern Weekly's Green Pages, which is founded in 2009, is the first in China that develop to focus on environmental protection, green development and sustainability. Be rewarded as "Green Partner", we feel proud and it's the affirmation of our contribution in sustainability.
The theme of this year's ceremony is "Collision 2019". During its "Green+ Innovator" section, Budweiser APAC is invited to explore the green innovation trend together with representatives from the Ministry of ecological environment, Chinese Academy of engineering, academia, media and other fields. Guests spoke freely from the communication trends in environmental protection, to the concept of "no waste city", and together "speak for green"! Among them, Liu Youbin, Director General of the Ministry of ecological environment, Du Xiangwan, academician of the Chinese Academy of engineering, Chen Changfeng, executive vice president of the school of Journalism and communication of Tsinghua University and other guests all praised Budweiser's achievements in the field of sustainability, and hoped to explore for more new models of public-private partnership and join in the cause of sustainability.
"Collision" is an endless process. This year's ceremony brings together the ideas and forces of all parties in an open manner and brings out infinite possibilities, which also makes another bright moment for Budweiser APAC. To welcome 2020, we will also let stakeholders work together to seek progress on the road of corporate reputation and "Bring People Together for a Better World".