Recently, the world's leading brewer Budweiser China joined the Shanghai Public Security Bureau Traffic Police Brigade to celebrate the eighth National Traffic Safety Day at Shanghai Tech University. Frank Wang, Executive Director, General Counsel and Joint Company Secretary of Budweiser APAC attended the launching ceremony of the campaign in person, while the Generation Z virtual idol 'Hajiang' made a holographic performance. In September, as the virtual idol for Harbin Beer brand, Hajiang became the first virtual volunteer to promote road safety in Shanghai. This time, she made a comeback with a brand-new identity, sharing her gains in helping Shanghai's move towards smart transportation.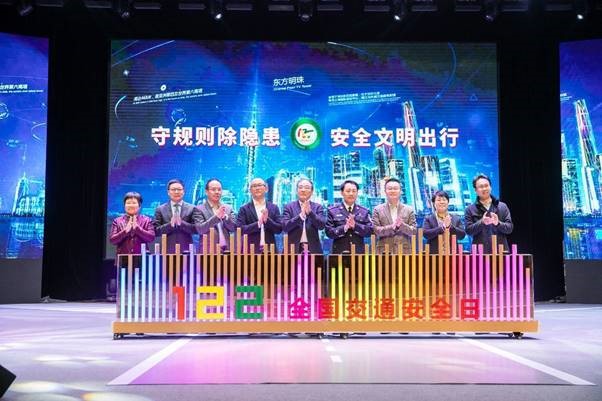 This year's theme for National Road Safety Day is "follow the rules to ensure safe and civilized travel." Frank Wang commented that "Nothing can be accomplished without norms or standards. A lot of traffic hazards come from ignoring the rules. Running a red light or drink-driving may cause serious injury to individuals and society. BUD China will continue to work together with traffic police in Shanghai, making innovative digital transport interventions to urge the residents of the city to 'follow the rules', and 'remove the hazards' on the road, in order to build a sustainable and stable community environment."
Hajiang became the first virtual Road Safety Ambassador to support the construction of smart transportation in Shanghai
This year, National Road Safety Day saw many activities take place. In addition to a variety of publicity and education programs, BUD China presented its virtual idol by holographic means. With vivid expressions, actions and lively tone, "she" was much like a real girl, and everyone present was amazed.
In fact, the connection between Hajiang and road safety publicity goes far back. In September this year, Hajiang was sworn into the road safety publicity volunteer team, becoming the first-ever virtual road safety promotion volunteer in Shanghai.
In the last few months, though she is as busy as a 2D idol, public interests have always been on Hajiang's mind. She has been right at the forefront of road safety publicity, supporting secure and civilized travels. She starred in the hip-hop awareness video 'Never Drink and Drive', which encouraged many people to join the campaign against drink-driving. She travelled to many places to promote road safety, leaving footprints in Beijing, Guangdong, Chongqing and Zhejiang, harvesting amazing remarks and leaving a positive afterglow as an idol.
In recognition of her contribution to road safety publicity, she is granted the title of 'Shanghai's first virtual road safety ambassador'. Hajiang, the first virtual 'Road Safety Ambassador' is a successful innovation arising from digitalization in Shanghai's smart transportation drive, Hajiang will encourage more post-90s and post-95 generation people to pay more attention to road safety, actively follow the rules and travel in a civilized and safe way."
BUD China -UNITAR strategic cooperation introduces road safety 2.0
In 2019, BUD China was kept busy implementing a slew of new road safety initiatives. It formed an alliance with UNITAR to improve safety standards. In doing so, it aimed at promoting long-term cooperation in this area among the community, sharing successful experiences and best practices, exploring innovative and practical solutions and ultimately reducing casualties caused by traffic accidents.
In April this year, BUD China teamed up with UNITAR to hold the 'Road Safety and Digital Innovation: Asia-Pacific Conference in Shanghai, inviting partners from within the APAC region and guiding exchanges around road safety and development in the region. Meanwhile, BUD China will also further enhance in the future its strategic cooperation with UNITAR, helping the construction of smart transportation in Shanghai. It will achieve this by identifying hazardous and critical road locations, as well as other key infrastructure factors that influence risk, by means of digital innovation. For instance, by video monitoring certain road segments and using high quality satellite images and data analysis provided by UNOSAT (UNITAR's Operational Satellite Applications Program) we can estimate the accident risks and identify risk factors.
The strategic partnership projects will be phased in. In the future, with the support of UNITAR, BUD China will hold regular workshops with government authorities, international organizations and other academic institutions to jointly assess the situation of road safety, to launch campaigns related to road infrastructure, and to raise public awareness, with a view to implementing solutions to road safety problems, and reducing road safety hazards.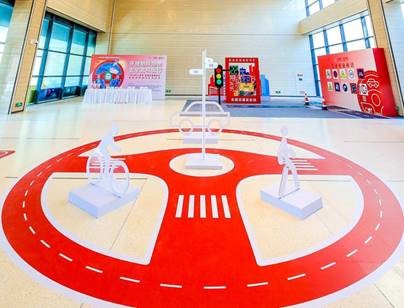 BUD China responds to the United Nations, road safety enters a new era
As a company with a sizeable logistics and transport worksheet, BUD China has many employees operating at the very forefront of traffic. Therefore, BUD China actively fulfills its corporate social responsibility, and responds positively to the call of the United Nations' Sustainable Development Goals (SDGs). It is committed to improving road safety on a global scale, reducing security risks and building sustainable communities. The results have not gone unnoticed.
In China, with the strong support of the traffic police, BUD China has been promoting compliance with laws and regulations among the whole society and a rejection of drink-driving. It is one of the first enterprises to launch a major campaign opposing drink-driving. This year marks the 12th anniversary of the launch of BUD China's gold medal Chinese public project, 'Smart Drinking, No Drink & Drive'. This year, BUD China co-produced a Palace-Themed Hip-Hop Animation, 'Never Drink and Drive', starring Z-generation virtual idol Hajiang. It promotes the new trend of saying no to drink-driving using fashionable and witty words, tailored specifically for the Z-generation. BUD China also made a breakthrough in its products, offering a new type of No-Alcohol beer (NAB), whose alcohol content is below 5‰, offering a sensible choice for some customers.
In order to make the 'Smart Drinking, No Drink & Drive' campaign benefit more people, BUD China participated in the Road Safety Experience Course opened by the Ministry of Public Security Traffic Management Bureau, and donated road safety education magic boxes to children. To date, the project has launched 9 national-level public demonstration activities, and more than 2000 volunteers have been to schools and communities to promote road safety, benefiting millions of children. It has received hundreds of media coverage and the live micro courses were viewed by 4 million people.
Throughout the years, BUD China's contributions to road safety garnered appreciation. From 2015, for 5 consecutive years, BUD China has been granted the Road Safety Public Service Partner in Shanghai. This year, as a public service partner, BUD China, together with representatives of the Shanghai traffic police, initiated the 'National Road Safety Day' Awareness Week activities. Shanghai's 'Virtual Road Safety Ambassador' Hajiang will play a more active role in these activities and contribute to the construction of smart transportation in Shanghai in the coming months and beyond.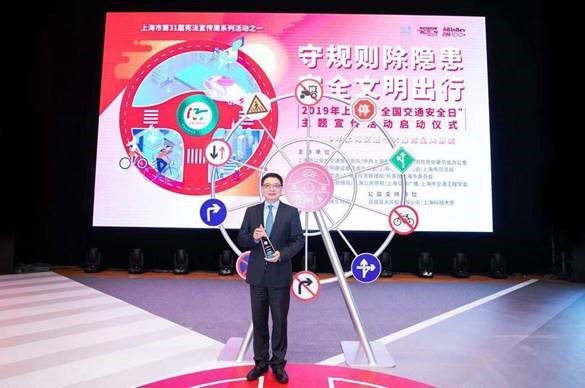 "Thanks to the support and recognition of the traffic police, BUD China will never forget our mission. We will continue to shoulder social responsibility, connecting the community to build a civilized, safe and sustainable society together," Frank Wang concluded.