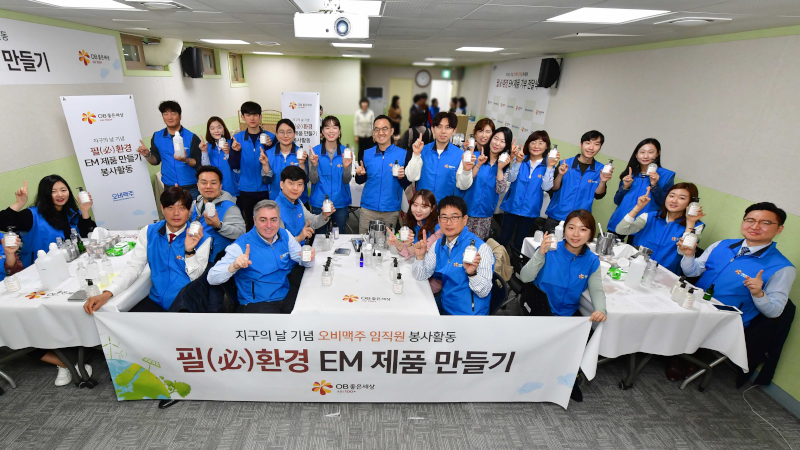 On 17th of April, OBC (CEO Bruno Cosentino) employees have conducted a volunteering project—making Effective Micro-organism (EM) products in Gangnam Volunteer Center a few days before the Earth Day, April 22.
OBC has planned this activity to deliver message of 'Green Survival', a must-do to hand-over clean earth to our next generation. On this day, CEO Bruno Cosentino, YT Chang, the vice president of CAPR and 20 employees had an education session by an expert instructor about EM, which was about principle & effectiveness of EM, impact of EM on our environment, how to use EM in daily lives. After that, they made eco-friendly EM products which are helpful in environmental improvement using EM liquid.
EM stands for 'Effective Micro-organisms' made by combining and cultivating beneficial micro-organisms which exist in nature. EM is known to be effective in getting rid of bad smells, preventing oxidation and purifying water by dissolving contaminants.
Employee Volunteers added meaning to this event by donating what they have made—EM detergents, EM deodorant, EM hand soap—to Gangnam Volunteer Center. In the donation ceremony, the head of the center Hwa-ok Lee attended and graced the event. Donated products will be delivered to community welfare centers within Gangnam-gu area through this center.
"Through today's event, employees realized that a small action within our daily lives can be a stepping stone of environmental protection. As a company which puts environment protection as priority in business, we will continue to give hands in caring and protecting the only mother earth." said Bruno Cosentino, the CEO of OBC.
This year, OBC has announced its new CSR brand, 'OB Better World' and is carrying out a variety of activities to highlight importance of water such as WED campaign 'No Water for 6 Hours', 'Water for Next Generation', and 'Water Film Festival'.
April 22 is 'Earth Day' designated by environmentalists to promote seriousness of environmental problems.