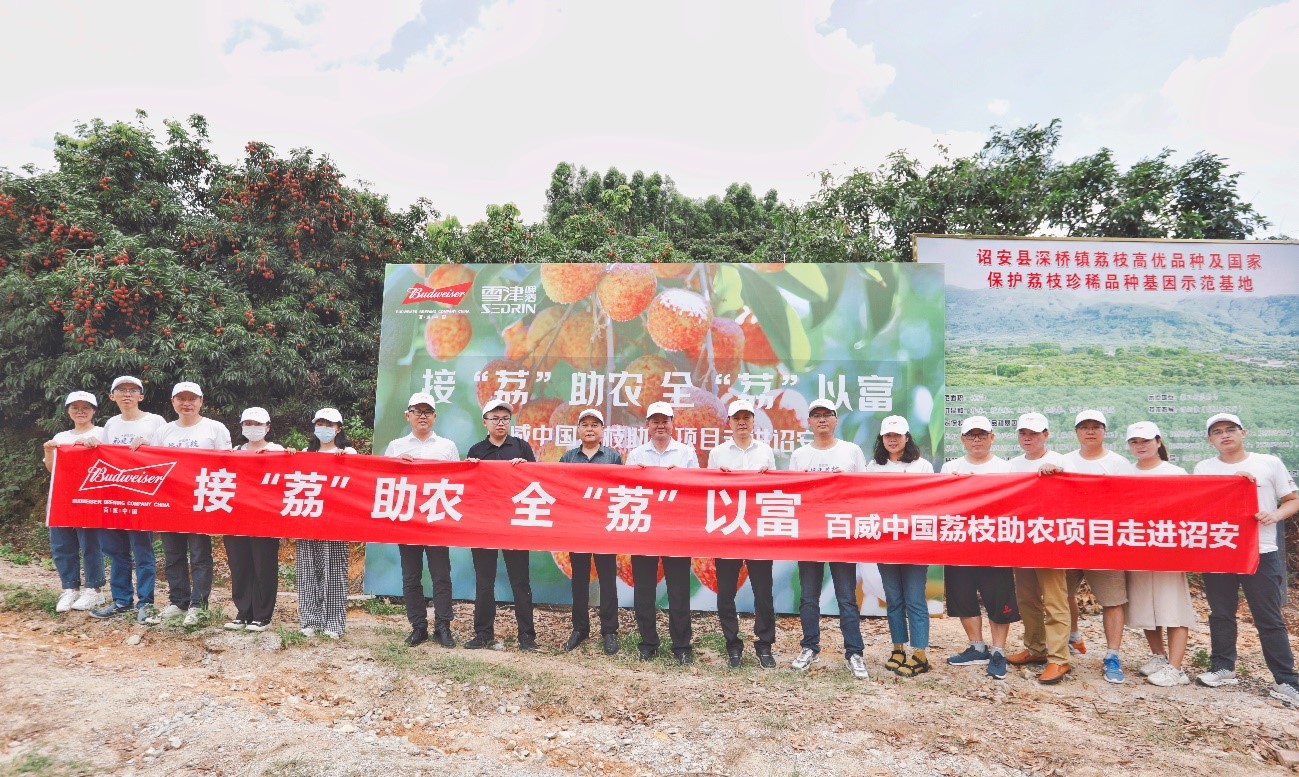 Fujian, China (15 July 2022) —— Budweiser China is pleased to announce that the company's lychee project, first launched in 2020 in Zhangzhou, Fujian Province, has successfully completed its second round. A multi-pronged initiative to help drive sustainable, scalable growth in local agriculture, the project underlines Budweiser China's strong commitment to contributing to the communities where it operates while supporting rural vitalization.
An innovative solution to drive positive, sustainable transformation of the local community
The Budweiser China lychee project started as an innovative industrial solution to a practical local problem. While lychee farming has historically been an important driver of the economy of Zhao'an County, Zhangzhou city, the delicacy of the fruit confronts farmers with difficulties in preservation, storage, transportation, and sales.
In 2020, Sedrin, a Fujian local beer brand of Budweiser China, procured 10,000 kgs of Zhao'an lychees to launch a special-edition, lychee-flavored Sedrin beer. The project amounted to a win-win solution. It helped Zhao'an farmers receive direct economic benefits while also seeing Budweiser China bring new drinking experiences to consumers and introduce them to the unique culture of Zhao'an.
The 2022 iteration of the lychee project further deepened Budweiser China's efforts to support the long-term positive transformation of the lychee farming community in Zhao'an. In addition to buying directly from farmers to curate the special-edition, lychee-flavored beer, Sedrin also joined hands with the Zhangzhou Zhao'an E-Commerce Association to provide local farmers with e-commerce access. Under the current initiative, around 20,000 orders have been placed, amounting to the sale of 50,000 kgs of lychee. Across Fujian Province, Budweiser China also hosted various marketing activities for Sedrin's lychee beer, further leveraging the company's scale and brand impact to promote Zhao'an lychees and support local farmers. Moreover, working with a mainstream media outlet in Fujian, Budweiser China hosted a live-streaming event on July 10 to promote Zhao'an lychees. Taking viewers around the nation on a behind-the-scenes tour, the live show was watched by nearly one million netizens and translated to the sale of over 500 kgs of lychees in less than two hours.
Budweiser China also combined its support for local farmers with its COVID-19 pandemic response. In 2022, in partnership with prominent media outlet The Paper and the Shanghai United Foundation, Budweiser China purchased 2,500 kgs of top-grade Zhao'an lychees to create 1,000 care packages that were sent to medical professionals and volunteers working in Shanghai's Punan Hospital and Hudong Xincun Subdistrict.
Giving back to communities to create a sustainable future for all
Budweiser APAC has been actively involved in the development of communities where it operates and is committed to becoming The Most Loved High-Quality Growth Leader in Beverage. Since 2019, in close partnership with local farming communities, the company has leveraged its scale and brand impact to launch various projects in Fujian, Jiangxi, and Sichuan Provinces to support local farmers and drive rural revitalization.
Craig Katerberg, Chief Legal & Corporate Affairs Officer of Budweiser APAC, said: "Budweiser APAC is focused on growing the beer category, and ESG is a core part of that growth. We focus on promoting the high-quality development of the communities and the economies where we operate. Working with local communities and taking a long-term, sustainable approach, we work to make our programs sustainable, inclusive, natural, and local to create a prosperous