On 23 February, Budweiser China Innovation Hub 2022 Demo Day was successfully held at Goose Island Brewhouse in Shanghai. At the event, four outstanding entrepreneurial teams presented their phased demos within different segments of value chainof Budweiser China. At the same time, the upgraded "100+ innovation lab" was unveiled, joining hands with innovative enterprises,makerson Campus Hackathon of Shanghai Jiao Tong University, supply chain partners, and other collaborators, to share and explore the transformative journey of empowering sustainable development and carbon neutrality in the industry over the past three years with company's vision: To create a future with more cheers!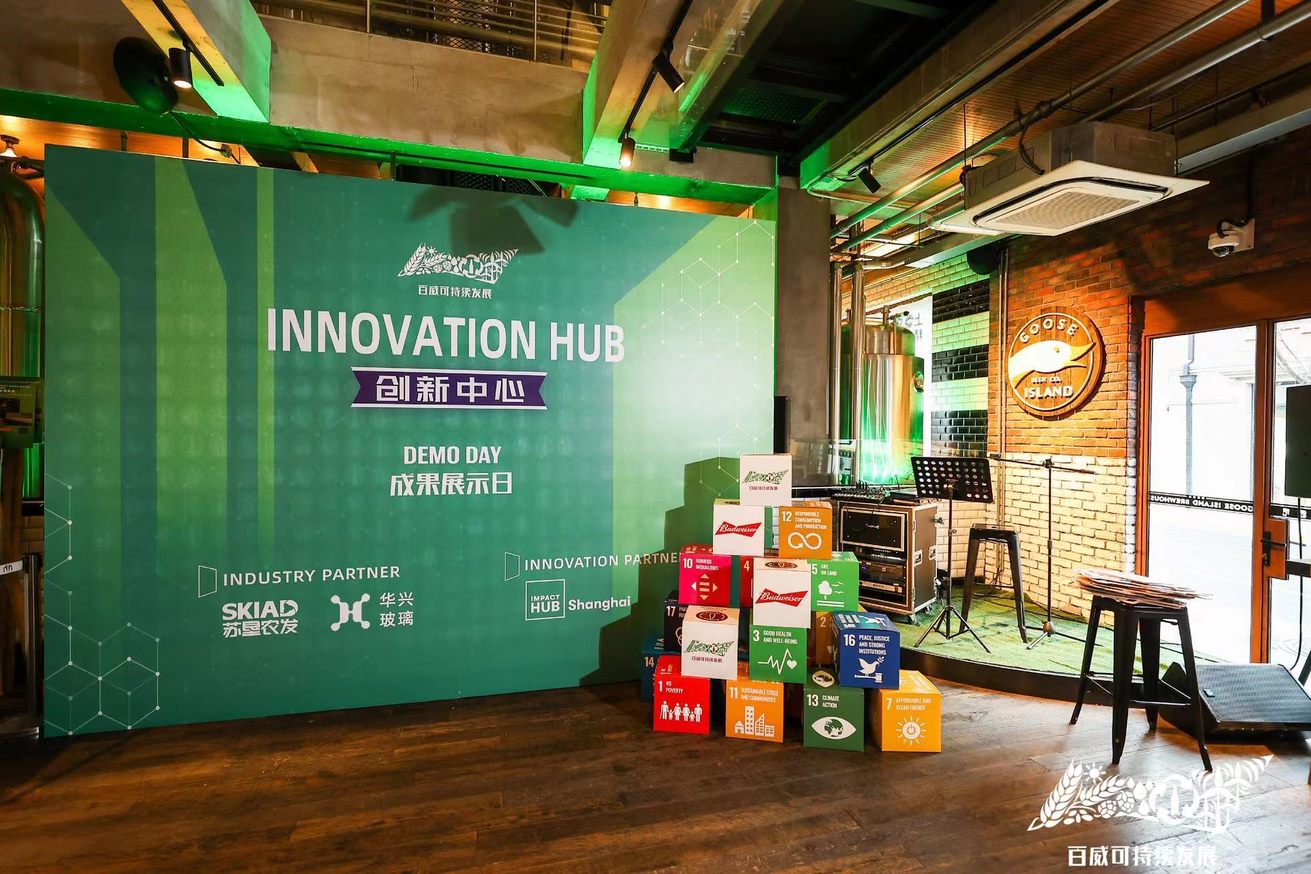 The newly unveiled "100+ innovation lab" is derived from the Budweiser China Innovation Hub established in 2020. Over the past three years, Budweiser China Innovation Hub has focused on the Chinese market and environment exploring the potential for sustainable development in the value chian of Budweiser China with innovation companies and teams. Through scouting, screening and piloting innovative solutions, Budweiser China Innovation Hub has embedded the innovative culture and results in the industry's value chain.
Every year, the Innovation Hub reviews the urgent sustainable development challenges in its value chain and publicly recruit innovative solutions. In 2022, with the support of Impact Hub Shanghai, Budweiser China has identified six major themes: Carbon Neutrality, Green Agriculture, Circular Economy, Smart Brewery, Impactful Marketing and Sustainable "Us". Meanwhile, Budweiser China also invited industry partners Jiangsu Nongken and Huaxing Capital to participate together and open up more application scenarios, providing more opportunities for innovative solutions to be piloted.
Through screening, Pitch Day, evaluations, in-depth communication and 4-month piloting in 2022, 4 entrepreneurial teams were selected from 79 applicants and have achieved valuable results in their respective fields. The event also featured an excellent pilot enterprise in the 2021 Innovation Hub, Vegatex, the plant-based leather start-up collaborated with Budweiser China to give a "second life" to beer lees.
Jan Clysner, Vice President of Sustainability & Procurement, Budweiser APAC, clarified that "100+ innovation lab" not only plays a vital role in innovation practices, but also one of the key enablers in helping Budweiser China achieve its 2025 sustainability goals and ESG strategy. Collaboration with startups and Campus Hakathon makers over the past three years has provided a constant stream of inspiration and action for sustainable development of the value chain of Budweiser China. "No one company or organization can solve today's sustainability challenges alone." according to Clysner, "That's why In 2023, we will emphasize more on broader investor resources to support more innovative business ideas and scale them up. 100+ innovation lab is
an open platform to establish new partnerships with more innovators, entrepreneurs, and brands."
In 2023, Budweiser China "100+ innovation lab" will achieve more improvements in breadth and depth. "Innovation Hub has become more and more mature with 3 years' tracked record, and therefore, the strategic rebranding is aiming at involving broader brand partners, investment institutions and industry partners with diversity and inclusion. The company will continuously practice ESG strategies and expand positive social impact with local focus and global outlook. Together with more partners across the whole value chain, we will create a sustainable future with more cheers!" said Terry Yao, Director of Sustainability Procurement, Budweiser APAC.
As the benchmark for smart, low-carbon production in the beer industry, Budweiser China keeps working closely with innovative and entrepreneurial teams to broaden new ideas and concepts for green industrial development. In the future, 100+ innovation lab looks forward to engaging more startups in the sustainable field to come forward and work together to pave the way for sustainable development for the planet and humanity! To a future with more cheers!
Click the link now to secure yourself an opportunity: https://landing.makeable.cn/100innovationlab/